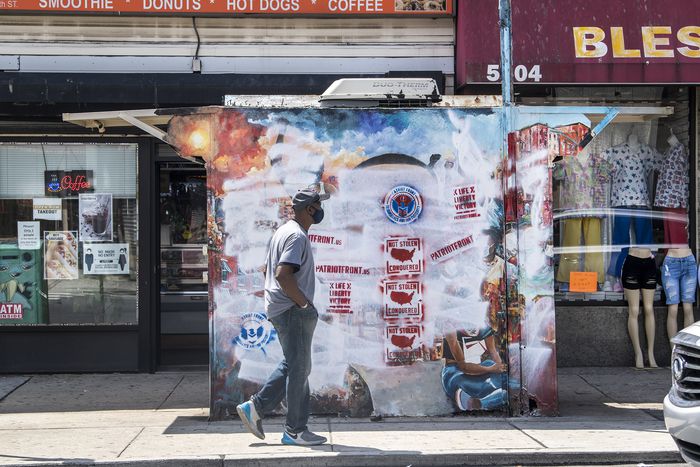 Sometime last night, Fascists associated with the Neo-Nazi group Patriot Front painted and stenciled over the George Floyd memorial at N. 5th st and Olney Ave.
Patriot Front is a splinter faction of Vanguard America, one of the major organizers of the Unite the Right rally in 2017 and the one that brought James Fields to Charlottesville, where he plowed his car into a crowd of Anti-Fascist protestors, injuring several and murdering Heather Heyer.
More recently locally, the group has engaged in late night provocations like these, putting up flyers and stickers in Center city and S. Philly.
Patriot Front has a large amount of crossover in membership with the New Jersey European Heritage Association (NJEHA), which as also run propaganda ops in Philly from time to time.
NJEHA is led by Dan D'Ambly and Ron Sheehy, both of New Jersey, who we have listen in our local fascists section.
This thread on twitter also has lots of info on NJEHA/Patriot Front associates in the area.
THREAD: Posting an update on Jackson Browning Bradley of the New Jersey Heritage Association (NJEHA) since the original info isn't currently published anywhere

DOB: 2/21/98
Philly, PA
T'gram: Madison117https://t.co/xH0qH3lJJvhttps://t.co/NtzM6HoC3whttps://t.co/f9UYaJ1y87 pic.twitter.com/Og7Im0iwGj

— ZigZag (@zig161zag) November 19, 2020
We will be updating this story as we get more info. Anyone with any info about who defaced the George Floyd memorial should contact us.
Rest in Power to George Floyd, Death to White Supremacy and Fascism.