UPDATED: Not only has the UA show been canceled, but Taake has canceled their ENTIRE US tour after multiple cancellations all across the country. Good job everyone! Thanks to all who contacted Underground Arts and the other venues. No Pasaran!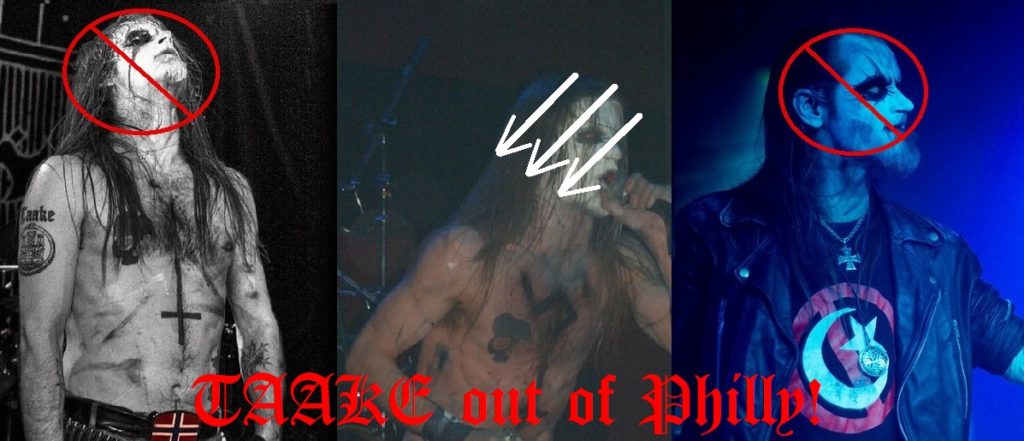 Norwegian black metal band Taake is scheduled to play Underground Arts on Monday, March 26th. This band is nothing more than a group of hate spewing bigots, and they are NOT welcome in Philadelphia.
Taake's frontman Hoest painted a swastika on his chest and performed a show in Germany in 2007. When the appropriate fury surfaced, his response of "I'm not a Nazi" included anti-muslim comments and a racist slur from Nazi era Germany. More recent offenses include their song "Orkan", which is ripe with islamaphobic and nationalist lyrics; including "to hell with Muhammad and the Mohammedans" and their "unforgivable customs".
King Dude, who was set to tour with Taake, has already dropped off amidst the backlash against this band. So far, shows in Kansas City, Salt Lake City, Denver, Chicago and New York have been cancelled due to the work of antifascists and community members. Even well known hip hop artist Talib Kweli cancelled his own show after learning that same venue was going to host Taake. This eventually led the venue to cancel Taake's show.
As more and more outrage gathers around this tour, we want to make sure these scum don't slip into our city and play at all! Contact Underground Arts! Let them know you're not ok with a racist band playing anywhere in your city!
No platform for Nazis! No music by Nazis, or for 'em, either!
Taake, stay out of Philly!
Call them at: 267-606-6215
Email them at: info@undergroundarts.com
Message their Facebook page: https://www.facebook.com/UndergroundArtsPhilly
Hit up their Twitter: @undrgroundarts
Hit up their Instagram: @undrgroundarts
Old fashioned visit them:
Underground Arts
1200 Callowhill St.
Philadelphia, PA 19108
Flash Mob Productions is culpable as the promoter for this show, give them a piece of your mind at:
https://www.facebook.com/pg/FlashMobProductions/about/?ref=page_internal