UPDATE: According the the opposition's event page, they have moved a block from Washington Square Park to Independence Hall "due to the sound system" they will be using.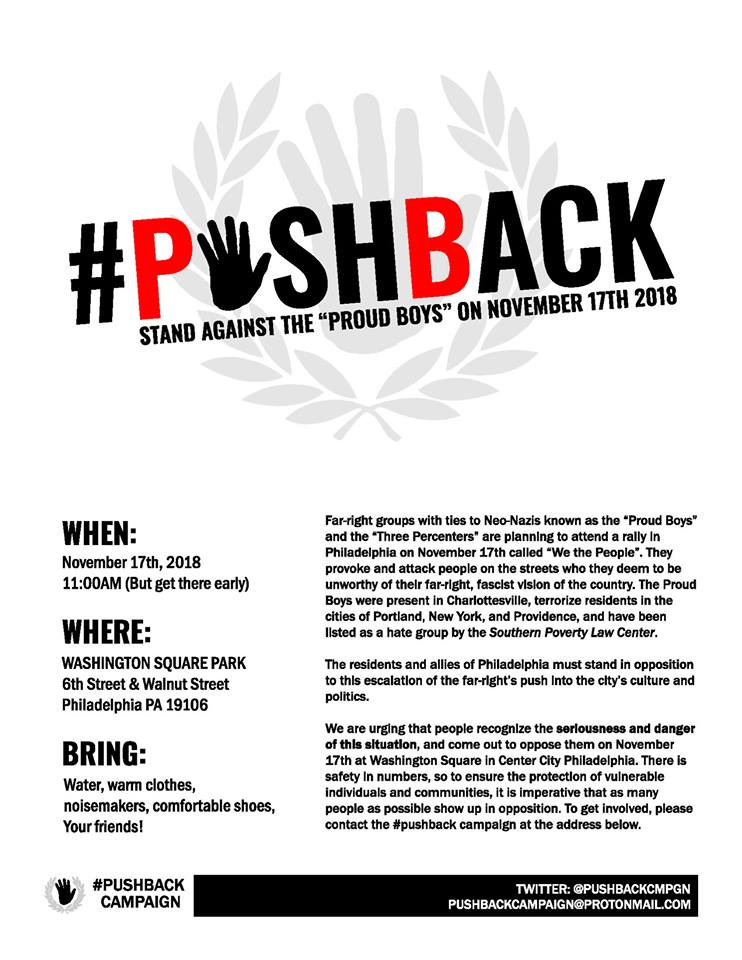 When: November 17th @ 11am (show up early)
Where: Independence Hall (5th and Chestnut St., Philadelphia)
What: Let Proud Boys, Three Percenters, and miscellaneous far right Trump Supporters know they are unwelcome.
On November 17th in Washington Square Park, far right Trump supporters will hold a rally entitled "We the People." The language used in the event page is vague and the rally seems to be solely a provocation against liberals and leftists in Philadelphia. The event is being organized by Pennsylvania "Three Percenter" militia members in conjunction with "Sports, Beer and Politics," a page on Facebook that is run by two "1st Degree" members of The Proud Boys, Sonny Sullivan and Zach Rehl. Both of the SBP admins live in Philadelphia.
The Proud Boys have been in the news a lot lately after a large group of their members assaulted 3 anti-racist protestors following a speaking event by Proud Boys founder Gavinc McGinnis. However, if you are not familiar with this "Western Chauvinist fraternal organization," here are some resources:
https://www.splcenter.org/fighting-hate/extremist-files/group/proud-boys
https://www.nytimes.com/2018/10/16/nyregion/proud-boys-gavin-mcinnes.html
https://www.huffingtonpost.com/entry/proud-boys-republican-party-fascist-creep_us_5bc7b37de4b055bc947d2a8c
https://www.cbsnews.com/news/proud-boys-geoffrey-young-arrested-today-new-york-city-gavin-mcinnes-event-2018-10-18/
And ditto for the "Three Percenters:
Trump's "Second Amendment People"?: The U.S. Patriot Movement Today
A coalition of local and regional organizations, #Pushback Campaign, has put out a call and made an event page to protest the Proud Boys and Threepers. We fully support this move to defend Philly from these white supremacist, misogynist, anti-queer xenophobes.
All those coming out should make preparations for safety. The Proud Boys, in particular, have a record of moving in large packs and provoking people and then attacking them if they object to their doing things like screaming "Trump!" or "Build the Wall!" Proud Boys will also just attack individuals they identify as "Antifa" or Muslim or Trans if those people are alone. They especially employ these tactics after their scheduled event ends, when people are filtering out in small numbers away from bystanders. Travel in groups and be prepared to defend yourself.
Be mindful that the cops will also be targeting people perceived as "Antifa" or radical and, as seen in NYC and Providence recently, will not intervene to stop a fight unless the fash are losing. Plan strategies that acknowledge those realities, watch each other's backs, and don't depend on the state.
See you in the streets,